The team at Newman Realty loves giving back to the Gilbert community. Our founder, Mark Newman, has been a Gilbert Chamber of Commerce member for many years. Throughout that time, he has participated in a leads group where he has built business relationships, become a leader as a member of Gilbert Leadership Class 19, and is always ready to support giving back to the Chamber and the community at large. 
Congratulations, Mark Newman for your nomination for the Businessman of the Year Award!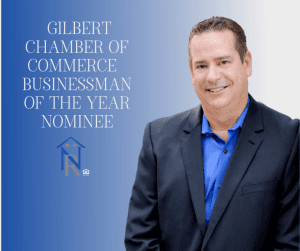 "I am honored to be considered alongside my fellow finalists for this prestigious recognition."
This is Mark's second nomination in this category. Newman Realty has been honored previously with the Spirit of Business and Business of the Year awards from the Gilbert Chamber of Commerce. 
"We truly value our partnership with the Gilbert Chamber of Commerce and its membership. Congratulations to all of this year's Finalists!!" 
Gilbert Leadership
In June 2022, Gilbert Leadership Class 30 will graduate from the program adding another group of community leaders to the alumni rolls. Mark Newman has been invited again to visit the graduating class on their final learning day. He will be discussing the impact Gilbert Leadership has had on class participants and the community at large. 
As a graduate of Class 19 and former Gilbert Leadership Board Member, Mark, alongside his wife Mickie who is a graduate of Class 24, recognizes the tremendous potential being realized each year by the program and its graduates. 
Mark says, "Serving this program isn't paying it forward. For me, it's paying it back!"
Newman Realty Gives Back: Open House Fundraising Success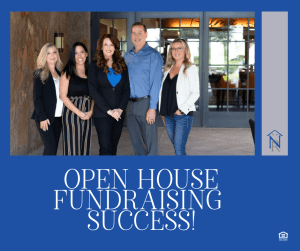 Newman Realty partnered with one of their valued seller clients and the Encanterra Community Service League to host a lively and successful open house/community social/fundraising event.  Chili dogs, beverages, live music, and a special guest appearance were all part of the festivities. 
Fundraising was organized in support of the Encanterra Service League benefiting their project at Canyon State Academy. The project is centered around creating a welcoming and functional space for the girls' side of campus. The Newman Realty team was joined by students from Canyon State to talk about their programs and the project. The highlight was the impromptu performance of Stand By Me, performed by neighborhood musician Collin, students, and most of those in attendance.
Our open house fundraiser was a success. Our sellers hosted neighbors at their home that just hit the market while supporting a great cause. In the end, about 150 neighbors had a chance to tour the home, made many connections, and more than $4,000 in donations were received.
We love that we can be part of a generous community!
If you're interested in learning more about Newman Realty sponsored events, Queen Creek and Gilbert events, or buying or selling your home, we would love to connect with you. 
Follow us on Facebook at https://www.facebook.com/NewmanRealtyAZ. We look forward to meeting you!